2018 UFCCM Conference Seminar Sneak Peek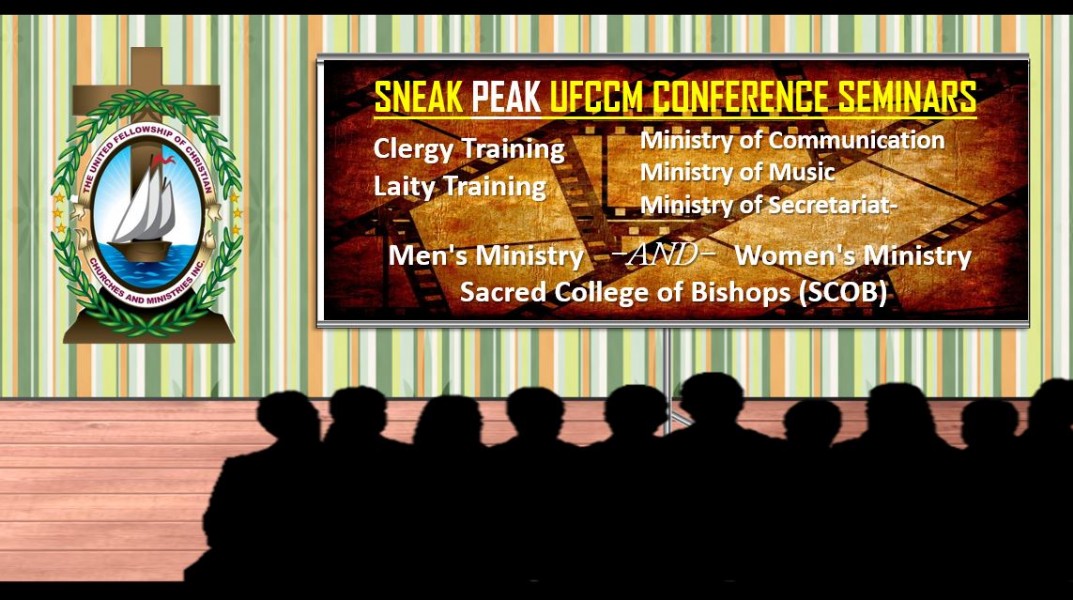 This is the year of "REACHING HIGHER!"
In accordance to this year's conference theme: Philippians 3:13-14 (KJV) 13 Brethren, I count not myself to have apprehended: but this one thing I do, forgetting those things which are behind, and reaching forth unto those things which are before, 14 I press toward the mark for the prize of the high calling of God in Christ Jesus. It is our prayer that you will leave the conference fully empowered, equipped and excited about the tools you will receive at each of these powerful seminars.
We are giving you a sneak peek (snap shot) of just a few of the seminar opportunities below. Stay tuned and be on the lookout on the UFCCM Home Page for updated and full details and descriptions. Time permitting, during the conference, we hope to also bring to you seminars and workshops on Church Growth Strategies, Church Planting, How To Start A New Ministry and Follow The Vision That God Has Given You, Pastoral Chronicles, The Highs and Lows Of Leadership and Ministry, Church Evangelism From The Pulpit To The Pew, Community Organizing and Organizations.
Intercessory Prayer Ministry
Bishop J.G. Kramer, Chairman
Reaching Higher- A 50-Minute Seminar: "The Call to Intercessory Prayer" This wil be a closer look at the need, requirement and call to pray for our ministries, churches, people of God, the UFCCM and the world. As Bishop Kramer always say; "If I can't do anything else, I can pray!"
Men's Ministry
Bishop Ronald S. Hobson, Chairman
Reaching Higher- A 2-Part Seminar: "How Do I Reach Higher Naturally/Spiritually?"
Part-1: The Personality Temperament Test

Part-2 The Spiritual Gifts Survey-Lifeway
Men you do not want to miss this, if you ever wanted to go higher in your everyday life and in your spiritual life, tools for your tool box are waiting for you.
Women's Ministry
Overseer Beverly A. Haywood, Chairlady
Reaching Higher- A 50-Minute Seminar: "We Are Wives, Mothers and Sisters (WMS) Reaching Higher!" This seminar will be set in a talk show format with a panel of leadership women speaking on important issues regarding today's WMS. Questions and subject matter are now being acepted. Send your topic/question to: womensadmin@ufccm.org
Ministry Of Communication
Bishop H.D. Haywood, Chairman
Reaching Higher- A 50-Minute Seminar: "The Need For Church Security TODAY!" A stimulating thought provoking reality check regarding the need for a higher level of church security and what the bible says about security, self defense and ofensive protection.
A Quick Church Security Assessment

Arson Prevention and Fire Drills for Churches

Severe Weather and Natural Disasters

Protecting Children from Sexual Abuse in the Church

Active Shooter (Armed Church Security?)

Proper Insurance Resources

Cyber Security Tips