OPERATING IN KINGDOM AUTHORITY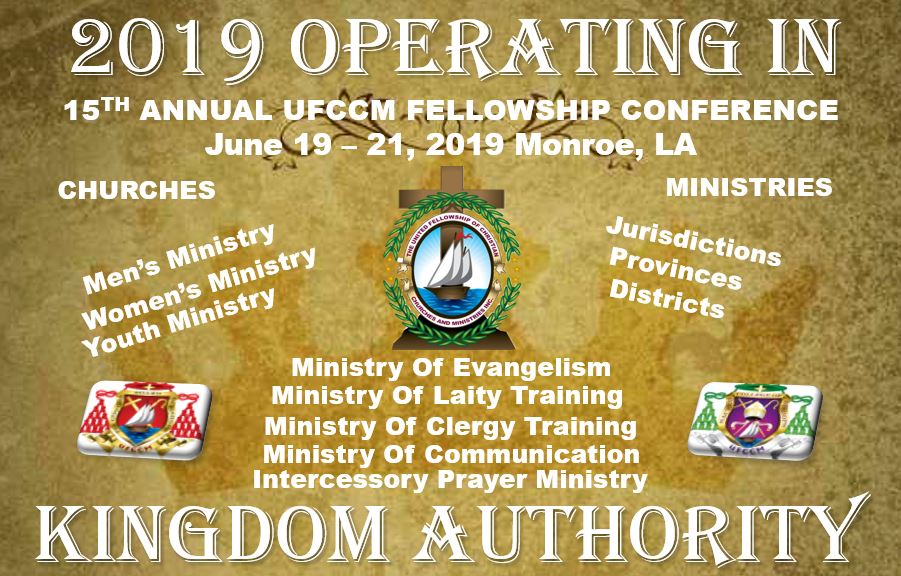 Thank you for coming to this page on our UFCCM International Website! We are so very excited that our Presiding Prelate/As you can see on the poster on the right, 2019 is the year of Operating In Kingdom Authority through all UFCCM affiliate Churches, Ministries and Resources that you should definately get invovled with. Please be sure to "REGISTER" for the upcoming UFCCM Fellowship Conference hosted this year in Monroe, LA., where the Jurisdictional Prelate is Bishop Don Banks. This is where you will truely be able to glean direct information.
Please Listen below to the UFCCM Laity Outreach Broadcast from 12-Noon Saturday, February 9, 2019. The presenters were our very own Ecumenical Patriarch/Presiding Prelate Bishop Henry A. Tindal, Sr. and Mother Bishop Shirley A. Tindal, who taught on the 2019 UFCCM Theme: "Operating in Kingdom Authority." This presentation will provided a rich and enlightening overview and discussion of the meaning and significance of what is meant by "Kingdom Authority," as well as how it is building upon our theme.