UFCCM Council Of Elders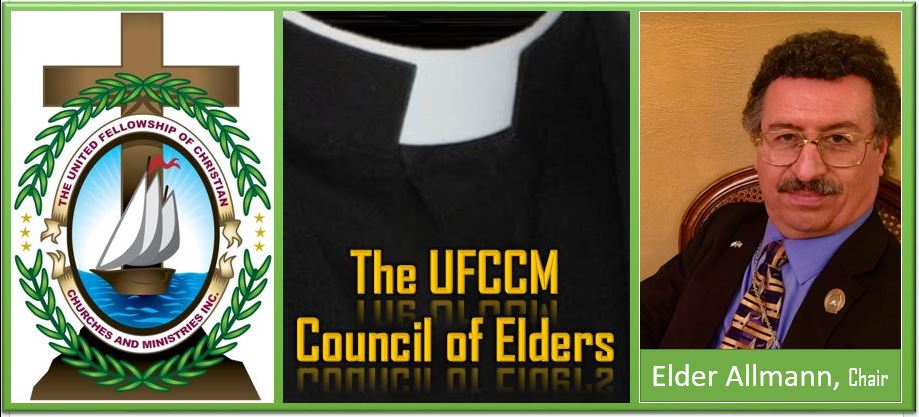 ATTENTION ALL ELDERS; This is a ministry of the UFCCM with much opportunity!
Bishop Henry A. Tindal, Sr., Presiding Prelate
Overseer Beverly A. Haywood, Mdiv., Advisor
Elder David C. Allmann, Sr., Chairman
E-mail: ElderAllmann@ufccm.org
or councilofelders@ufccm.org
The term 'elder' is used in various ways in the Bible, but in most instances as a person valued for his/her wisdom who accordingly holds a particular position of responsibility. In a Christian group. the counsel of ordained elders was frequently sought after in areas of ministry, business and government. In addition to the word commonly translated 'elder', there are two other words used in the New Testament to describe various aspects of this position of leadership: 'overseer' and 'shepherd' (or 'pastor').
In 1 Timothy and Titus, Paul drafts largely overlapping lists of qualifications for 'elder' and 'overseer', while Peter draws all three concepts together in one passage: "Therefore, I exhort the elders among you... shepherd [i.e., "pastor"] the flock of God among you, exercising oversight..." (1Perer 5:1-2) Luke uses all three terms when referring to the same group of leaders in Acts 20.


THE UFCCM NATIONAL COUNCIL OF ELDERS GUIDELINES AND DESCRIPTION

PURPOSE:
The UFCCM National Council of Elders is designed to provide a ministry within the Clergy for those affiliate members of the clergy who, even though ordained ministers or elders, are not serving as pastors, or UFCCM officials. Therefore, the purpose of the National Council of Elders is to enhance the ongoing training of elders, and to provide an opportunity for fellowship, specifically designed for all members of the Council of Elders, conducive to spiritual, educational and personal growth as Elders. Such may include but not be limited to prayer meetings, national fasting and prayer days, preaching opportunities throughout the UFCCM Fellowship, etc. Educational opportunities may consist of interaction with the Chairman of Clergy Training to provide ongoing courses and training opportunities in ministry, as well as interaction with the UFCCM National Chair of Laity training for development of public speaking, grammar and other related skills. The National Council of Elders may also from time to time hold an Elders Retreat. The Council of Elders will provide various activities for interaction between UFCCM Elders on the National, Jurisdictional, Provincial and District level with the consent of the Presiding Prelate and the respective Jurisdictional Bishop.

MEMBERSHIP:
Membership in the council will be inclusive of all UFCCM affiliate elders who hold UFCCM ordination credentials and who are in good standing with his/her local church and the UFCCM. Membership is also inclusive of all such elders whose annual assessments are current.

ASSESSMENTS:
None shall be considered an active member of the UFCCM Council of Elders whose Annual Assessments are not current. It shall be the responsibility of the Chair of the Council of Elders to certify from the Secretary General that all members of the Council of Elders have submitted Annual Assessments by March 31st of each Conference Year.

MEETINGS:
Time shall be set aside at each annual conference of at least one hour for National Council of Elders to hold an Annual meeting. The Chair of the National Council of Elders may request that a specific time be set aside on each Jurisdiction for meeting of Jurisdictional Chapter of Council of Elders. The National Chair of the Council of Elders may preside over such meetings when possible via conference call or other electronic communications media, whenever physical presence of the same is inconvenient.

SPECIAL EVENTS:
From time to time the Council of Elders, with the approval of the Presiding Prelate, may hold special events in pursuit of its goals and mandate. Such events may not coincide with any regularly scheduled Annual UFCCM events.
***A Special Form is being drafted where all UFCCM Elders can fill in information to be listed as a council member including; your photo, ministry and bio. Elders will also receive constant updates.