International Prayer Team and Prayer Request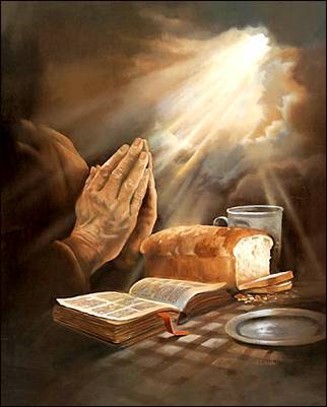 What is the Intercessory Prayer Team?
The UFCCM intercessory prayer team is composed of intercessors who are dedicated to offering intercessory prayer for those who request it and as God lays a burden on our hearts.
We intercede for any subject that is acceptable for prayer: improved health, a job, emotional support, safe travel, family concerns, etc. "Take it to the Lord in Prayer" fits any and all life situations. All requests are confidential if not posted below. Requests for oneself may also be made anonymously.
Anyone who would like more direct contact from a prayer team minister, or feels called to this ministry may contact the coordinator; Bishop J.G. Kramer: prayerteam@ufccm.org A telephone number may be provided by return e-mail. Please feel free to read the request below and pray for them, or place your own prayer request by clicking on the link below.
Darlinda H.
May 23, 2012
Hello,

I am requesting prayer for my 20 year old daughter Bianca. She has come down with a mental illness the doctors have diagnosed as Catatonia. This began around April 7, 2012. We strongly feel it is job related, but cannot be a hundred percent sure, because we cannot get her to open up. She has been in a traumatic state of mind for these past several weeks. The doctors have put her on five different medications.

We know that God can use medicine to heal, but it is our prayer that He delivers her from the medicine and her condition completely. She is currently on FMLA and is scheduled to go back to work June 26th. We are believing God for a miracle. Whether she goes back to her job or some other job, we want her first and foremost to be delivered and set free. It is so heart wrenching to see your child in that state of mind; and have that paranoid, far a way look in her eyes. She has gotten down to 105 pounds. She's not eating well or drinking fluids as often as she should. She has to have Ambien each night to get her to sleep.

Every time I give some one a praise report that she has made improvements, the enemy comes right back to make us look like we have lied. Well he's the liar!! Thank you for all of your prayers regarding this matter. It is so good to know that we have those who can reach the throne of God, during this difficult time, praying along with us.

Take care and thank you. May God continue to bless this anointed ministry!


Anusha M.
May 15, 2012
My in-laws are selfish, evil & hypocritical. They call & communicate with my husband when they know that I am not around. I am his second wife & we have a daughter. My husband cannot accept that they use muti & witchcraft to manipulate him, hurt me and tried to kill me & my baby when I was pregnant. This was revealed by the Holy Spirit when we had a blessing for our new home. He has another child from his first marriage & they only spoil & buy things for him, not their grand daughter. I do not want them to ever come to our home and no communication must happen with my husband. Once they do, my husband demeanour changes- he abuses us verbally & physically- he shouts, screams & hits our baby for no apparent reason. He rarely will show any affection towards her or buys her things when he says he will.

Please pray that my husband sees the Light and these people do not set foot in our home. Please pray that they fail to communicate via any means with my husband. Also that my husband does not feel the need to communicate with them at all.

Thank you.
Anusha

MAY W.
May 4, 2012
NEED A MIRACLE AND A BRAKTHOUGH IN MY FINANCE
Haywood B.
April 19, 2012
Blessings dear prayer team, I am requesting prayer for a friend and spouse regarding a health issue. Please stand with me for healing and a miracle on their behalf.
Haywood B.
March 31, 2012
Miracle for Cathy Boyle and Patty.....
Anonymous
January 31, 2012
Please help me pray for my son his name is Anthony and he just turned 17th years old. He has a girlfriend that he has been with since the 10th grade. This girl comes from a dysfunctional home, no family support, She is felt to raise her younger sister's cook and clean. She has no rules or guidance from her parents. Her family is really poor and live in a run down house. Her parents don't work love to party drink and use drugs. Her parents are not involved in her life, Her parents are to busy doing their own thing to worry about their daughter, Their is no involvement of any kind on the parents part. My son comes from a middle class family we are hard working and he is the only child. My son is blessed and never goes with out. He gets good grades, plays sports, in AVID and is taking AP and honor class. Our son comes from a loving caring family, supportive family and their is nothing we wouldn't do for our son. Snice my son has been with this girl she has isolated him from his friends and family and keeps him away from them. She wants to control my son's coming and going, life, the things he does and who he hangs out with or talks to. She wants him all to herself. My fear is that one day she will try to isolate my son from his parents and keep him away when my son is done with High School and that we will never see him again. Her plan is to have my son move out of his home and move in with her right out of high school. My fear is that she is going to try to trap my son into marrying her or she will try traping him by getting pregnant. Every time she is around our family she is embracing, rude and has no respect for authority. She is always picking fights with my son, giving him and us an attitude and telling him she is sick so she can have him all to her self and justify her behavior and he won't interact with others. I see my son making excuess for her behavior and justify it. She will not interact with any one. Snice my son has been with her he has no friends or a life. His life is this girl Vanessa then both act like a married couple. The only stable person in her life is my son and she wants him to full the voids she has in her life and wants my son all to herself. Every time we try to talking to him he is always on the defensive side. Always gets an attitude, thinks he has it under control, knows it all and knows everything about life when he doesn't. Last he lets her control him and she tells him what to do. Last he is not himself around her. I need God to move on my behalf because I don't know what to do or what to say. I feel like this is out of my control. I am to the point I don't want this girl around any more, I can't stand her and her ways. I am scared I am lossing my son and will loss him forever. I feel that the only reason she is with him because he has a bright further and she wants out of her enviroment she is going to use my son to make that happen. I feel she is using him for her own personal gain. I need help on what to do
Anonymous
January 23, 2012
I have recently found myself seperated after 12 years of marriage w/5 children to take care of. Financially I don't make enough money to cover my monthly bills. I'ts only been the grace of God that has seen me through. Please pray that God will open up the doors of oportunity for my young adult children to find gainful, fulltime, with benetfits employment.
Rhonda W.
January 15, 2012
Please pray for my neighbor Paul. he has prostrate cancer which has now spread to his kidneys and has been given 8 months to live. Please pray for his healing if this is God's will and if not pray for his happiness for the duration of his life. Amen
Dennis S.
December 29, 2011
My name is Dennis and my wife's name is Mary Beth. We have been married for 7 ½ years but separated for the last 4 months. My wife has fallen in to a place of darkness and is adamant that she wants a divorce. God has called me to stand for the restoration of our marriage. I am asking others to agree with me in prayer for the restoration of our marriage and the Lord will be glorified and use my wife and I through this to minister to others the restoring power of God.
Thank you and God Bless
Dennis

christopher john s.
December 10, 2011
Pray for the complete restoration of my family, a financial breakthrough, and the salvation of my wife and daughter. Deliver us not into temptation, but deliver us from evil and the evil one. Prepare me a table in the presence of my enemies. by the loving discipline of the father lead us to repent and into salvation in forgiveness through Jesus Christ. Pray my faith'll move mountains. Perfect our love with the Father and our love here on Earth and may he be the potter and we the clay (Christopher,Riley,and Brielle). Much favor to you and upon us.God is our refuge and strength, a very present help in trouble and I give thanks in advance for all things! I pray that the obstacles be removed and that my restoration to my family will be a living testimony of God's covenant of marriage and biblical parenthood.