International Prayer Team and Prayer Request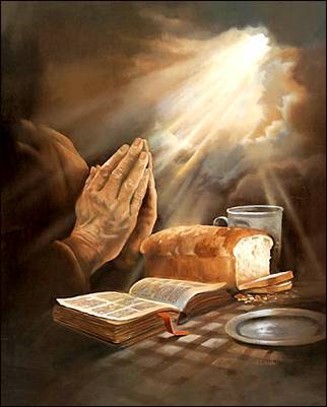 What is the Intercessory Prayer Team?
The UFCCM intercessory prayer team is composed of intercessors who are dedicated to offering intercessory prayer for those who request it and as God lays a burden on our hearts.
We intercede for any subject that is acceptable for prayer: improved health, a job, emotional support, safe travel, family concerns, etc. "Take it to the Lord in Prayer" fits any and all life situations. All requests are confidential if not posted below. Requests for oneself may also be made anonymously.
Anyone who would like more direct contact from a prayer team minister, or feels called to this ministry may contact the coordinator; Bishop J.G. Kramer: prayerteam@ufccm.org A telephone number may be provided by return e-mail. Please feel free to read the request below and pray for them, or place your own prayer request by clicking on the link below.
Anthony S.
November 29, 2022
Pray for God to fill me with power, living water, His Blood, manna, anointing, all He wants. For powerful spiritual armor to cover me. For total protection, blessed health, provisions, favor, grace, comfort. Thanks!!!
Anonymous
July 18, 2013
Please pray for me, and my husband, that our finances will grow and we will be blessed with great opportunities. We are both self employed although my husband is disabled and our business has been slow but we are believing gods promises. stand with us in prayer that we will be blessed with INCREASE and we are praying for all of you as well
Sharon G.
July 18, 2013
My sister is experiencing blackouts, dizziness and deafness along with ringing in one ear. Please pray for her healing. Thank you
karen p.
June 28, 2013
i was fired from my job 3 months back and ihave lost allmy confidence amso scaredof trying to find a job in fear of rejection
i don't knowwhere to start please pray that i find agood job as i am a single mother and need to find a good job to run my household please let me find a job that will help cover all my household expenses
Anonymous
June 14, 2013
Thank you that Barbara was offered a better job at her company. Please pray for her and her roomate that they quickly get good jobs and can turn around their financial problems. Please let both these ladies be able to work and earn money for their daily needs and retirement; to get completely out of debt; and to buy and pay off their homes.
Anonymous
June 11, 2013
Father I praise and thank you for always hearing and answering all my prayers. I thank you fr stumbling on this site to be able to pray and recieve prayer, bless the owners of it that their contribution is multiplied many fold in their lives in Jesus Name. Father you are the God of my everything good and bad and you already know my situation so rather then glorify the problem Father i glorify you, the Alfa and Omega in Jesus Name. You know my issues of blood and the jericho wall that shall fall in Jesus Name! I claim restoration in every single area of my life in Jesus name!! I claim double for the trouble and overflow that those around me are blessed as well in Jesus Name! I claim Prayer of Jabez Miracles, Hannah and Ruth and Esther and even Job miracles in Jesus name! Hallelujah!! Every tounge of the enemy will be completely silenced and binded now in the name of Jesus and i bind every demonistic enemy that has held my blessing up thus far catch fire in Jesus Name! You word says what is loosed on earth is lose in heaven and what is bound on earth is bound in heaven so i thank you for even being able to take your word over your name in Jesus name! I thank you Father that the struggle is over in the almighty name of Jesus the living! thank you for a ephesians 5 husband and me being a proverbs 31 wife in Jesus Name ! Holy Spirit i thank you for blessing our sons in Jesus Name for keeping them close and ordering their steps in the name of Jesus! my Savior my everything i give you honor glory and praise! i thank you that the enemy is already defeated in Jesus name! I thank you for victory in every human court in Jesus name! I thank you for your word and for already hearing and answering my praise and prayer In Jesus mighty name Amen! Amen! Amen! Hallelujah!
Cheryl W.
June 11, 2013
I work for a NGO and finances are a challenge right now and the prospect of retrenchment is a possibility. Please stand in agreement with me that if it is God's will that the organisation stays open then it will. Also, if I am to a be a part of staying there, that I will know. Or does God want me to possibly do something else. One is a bit anxious as the job situation is not easy and finding work is not easy. But ultimately, I want to be in God's perfect will and follow what he wants me to do not be in a job because I need the money if there is something else he has planned for me to do then let me know that I am to trust in Him and His guidance. There are so many things I would like to do, help others, go on a holiday but everything is about finances. I have been so tired these last few weeks, with dizzy spells and continually feel so tired. I drag myself to work & am struggling and just want to sleep. I need my joy back. Please pray for me to be healed and whole, to be energised and strengthened so I can do and be all that God has called me to be. In Jesus Name I pray. Thank you Father and in Faith I believe and know that you have answered my prayer.


Cheryl W.
June 11, 2013
devil it is enough now, we command that you leave Johan alone. We bind the strong man in Johan's life. We command spirits motivating and tormenting him to be silent in Jesus Name. Father we thank you Lord and call those things that are not as though they are and in faith we believe Johan has been delivered from all bondages and unholy soul ties. That Johan feels the correction and conviction of the Holy Spirit when he behaves in a way that is not pleasing to God. That Johan feels no peace or joy when behaving in an ungodly manner and when committing fornication. The cross of Jesus is between Johan and his past and Nanette. All the issues he has will fall away, uncleanliness, selfishness, lack of integrity and alcohol and cigarette addictions will cease. Johan looks to the word and turns from his past and Nanette once and for all, and does not look back Gen 19:26,Luke 9:62,Heb 10:37,1 John 2.15. Relationships with his parents and Cheryl will be restored. Holy Spirit, reveal Jesus' love for Johan. Reveal to him how valuable He is to the King of Kings because You paid such an amazing price for Him. Reveal Jesus to him, wrap Your arms around him, love on him, comfort him and speak truth to him to offset lies he may have bought into. Thank you Father that Johan becomes a mighty man of God. We Pray this in the Mighty Name of Jesus. Amen. We thank you and in Faith Father we believe this prayer is answered. Hallelujah
Albert l.
May 18, 2013
We are asking the Lord Jesus for Financial Favor and Breakthrough for the LaRance family,PBJP! We are tithers and givers. Thank You and God Bless!!
Ahijah M.
April 29, 2013
My Dad was diagnosed with cancer. However, we see the Most High God making miraculous moves on his behalf. However, please pray that God finish His work in my Dad's body. Right now, he is on his way to the hospital with shortness of breath. He needs his appetite and weight to increase dramatically. Please pray with me! Please agree with me that God rid his body of all traces of the cancer, may he be made whole. Please heal him. In Jesus' Name. Amen.